Butt of the Joke
I'm broke and have a headcold and I'm solidly middle-aged. Well, not solidly. That would be awesome. I'm jigglyly, untenably middle-aged. Things are happening tonight, things that would require lipstick and synapses—one friend is doing a comedy set at a Latin drag bar; another is impersonating Anne Sexton at a bookstore magazine launch; yet another is hosting a vegan milkshake night at a kitschy diner near the extinct York theatre, where my friend Stephen Moses got shot and killed 25 years ago while he was making a call at a phone booth. He was wearing a beret and a vintage gabardine overcoat. He was 23, a painter, and he loved to use this one orangey color, a sort of carnal terra cotta, that I will forever associate with him.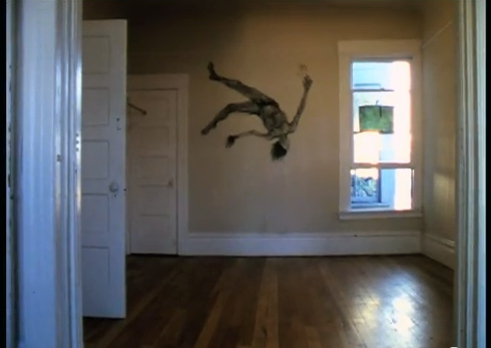 Does god help those who sit at home braless playing online Solitaire? (What's the opposite of helping oneself?) I know they develop these games so they're as hard to quit as kettle corn, but I hate myself anyway. I meant to put on nice-ish shoes, but what's the point? I certainly wouldn't be able to think of anything witty to say, which is the one occasional advantage to being out of kneepants.
I used to do risky things like hitchhike and take pills I found on the street and have sex in alleyways. Now I fantasize about the perfect cappuccino.
Joel has a little high-tech collapsible footstool that he pulls out when he plays his guitar at the kitchen table. For some reason when he does this I picture Levon Helm, stub of a cigarette permanently lodged in his face, bootheel hoisted on a barrel of homemade rye. That scene in the Last Waltz when he, with his husky Delta drawl, tells Martin Scorcese what rock and roll is.
I mean, I picture Levon Helm ironically, by no means to suggest that Joel evokes pure Levon-ness, but more as a visual reminder of how everything, including me and Joel and the kitchen table and the "footstool" and the computer and the low, sharp shadow of late afternoon settling onto the neighbor's stucco, is a second-rate version of its advertised self. I had a friend who liked to randomly make a sweeping gesture and say, "This is not as pictured in the brochure."
The footstool is made partly of vulcanized rubber, which was discovered by accident when a scientist left some chemicals sitting in a lab overnight. Natural rubber deforms easily when it's warm, its polymer chains waving flagrantly like hippies at an outdoor concert. Which is unacceptable for bowling balls and saxophone mouthpieces and portable footstools.
I feel sorry for babies. Hell, I feel sorry for everyone. We are ectopic spasms in an epicene top-hat, already outdated before we've even had a chance to twiddle ourselves.
And yet we can't help being amazed, though we know it's all been done before, backwards and in heels. I once wrote a line in a poem: "The first person who ever ate an orange/ate the peel." At the time I thought it was a poem about falling in love. Tonight it strikes me as a sad cry, a fist waving at the sky, a reluctant black belt in becoming the perfect stooge.